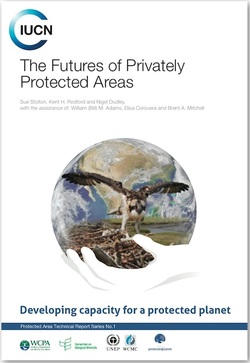 Our publication is a first-of-its kind global assessment of privately protected areas. The IUCN Report,
The Futures of Privately Protected Areas
, creates a framework to allow governments to expand their use and support of privately protected areas and will raise awareness that privately protected areas can and should be reported to the World Database on Protected Areas (WDPA) and the CBD. The report by Sue Stolton, Kent Redford and Nigel Dudley is based on an extensive literature review, discussions with PPA specialists, an expert workshop and 17 commissioned country reviews.
Privately protected areas (PPAs) will be an essential component in achieving the Convention on Biological Diversity (CBD) Aichi Biodiversity Target 11 on completing ecologically representative protected area networks around the world. The report provides guidance on applying the IUCN definition of a protected area to PPAs. Two of the most important elements of this guidance are: 1) PPA managers should be aware of any use rights impacting conservation objectives that are not under their control and ensure these do not reduce the area's conservation effectiveness or undermine the status of the IUCN protected area definition; and 2) due to the challenge PPAs may have in proving 'long-term' conservation, focus should be on demonstrating long-term intent to conservation. Long-term here should be at least 25 years, though the intent should be conservation 'in perpetuity', and safeguards put in place to ensure conservation objectives persist even if ownership changes.
Download in
English
or
Spanish
---
---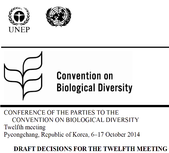 The report is already having an impact on policy. It may be surprising, but the
Convention on Biological Diversity
has never formally recognized the role of privately protected areas in conserving biodiversity. Until now.
The draft decision of the recent Conference of the Parties to the Convention ( Korea) "
Recognizes
the contribution of private protected areas in the conservation of biodiversity, and
encourages
the private sector to continue its efforts to protect areas for the conservation of biodiversity."
Item 26.2
---
---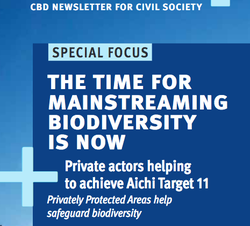 "Privately Protected Areas use private mechanisms to provide public benefits like safeguarding biodiversity." Read our brief summary article in
[Square Brackets], the newsletter for civil society
of the Convention on Biological Diversity.
Individuals and groups have been involved in establishing PPAs for well over a century: there are already millions of PPA owners and supporters, including NGO members. Many are driven by philanthropic motives, research interest, interest in endangered species or the desire to leave behind a positive conservation legacy. Others want to preserve particular places against development change because they have cultural, religious or spiritual importance. Other motivations include wanting to shelter beloved areas from development to maintain a quality of life. Corporations set up PPAs as part of development projects or as a condition of resource use (e.g. as part of forest or agricultural certification systems). Incentive schemes make the difference between conservation and exploitation for some landowners.
© 2017 Specialist Group on Privately Protected Areas and Nature Stewardship, IUCN/WCPA, c/o QLF Atlantic Center for the Environment

UA-81415675-1